Your Shih Poo might act like a much larger dog, but it's important not to feed it like one.
Your Shih Poo's diet should be optimized for its higher metabolism and smaller physical size. Thankfully, there are more high-quality options out there than ever before — but which dog food is the best for your pup?
To help you along, we've compiled a list of the best dog foods on the market today using our comprehensive 40-point inspection list.
Let's get right into it:
The Best Dog Foods For Shih Poo
| | | |
| --- | --- | --- |
| Top Picks | Ratings | Top Ingredients |
| 1. ACANA Red Meat Formula Grain-Free Dry Dog Food (Editor's Choice) | 4.9 | Raw beef, Pork, Whole Red Lentils, Whole Pinto Beans, Whole Green Peas |
| 2. Taste of the Wild Appalachian Valley Small Breed Recipe | 4.9 | Venison, Lamb Meal, Garbanzo Beans, Peas, Lentils |
| 3. Nulo Freestyle For Small Dogs | 4.8 | Deboned Salmon, Turkey Meal, Menhaden Fish Meal, Salmon Meal |
| 4. Merrick Classic Small Breed Dog Food | 4.7 | Deboned chicken, chicken meal, brown rice, barley, turkey meal |
| 5. Wellness CORE Grain-Free Small Breed Turkey & Chicken Recipe Dry Dog Food | 4.9 | Deboned Turkey, Turkey Meal (source of glucosamine), Chicken Meal (source of Chondroitin Sulfate), Peas, Dried Ground Potatoes |
Shih Poo Dog Food Reviews
1. Acana Red Meat Formula Grain Free Dry Dog Food
Top Ingredients: Raw beef, Pork, Whole Red Lentils, Whole Pinto Beans, Whole Green Peas
Feed your prized pooch a diet you can both feel good about with Acana's premium grain-free formula!
Formulated with 60% animal ingredients, including ranch-raised beef and Yorkshire pork, this high-quality formula comes enthusiastically recommended by vets and pet parents alike. Chickpeas, lentils, and whole pumpkins provide fiber and are a gluten-free source of complex carbohydrates and beta carotene. This formula is the complete and balanced diet your Shih Poo needs.
Made in the USA
Coated with freeze-dried beef for maximum flavor
Jam-packed with fresh fruits and vegetables
2. Taste Of The Wild Small Breed Appalachian Valley Small Breed Recipe
Top Ingredients: Venison, lamb meal, garbanzo beans, peas, lentils
This fully balanced, grain-free recipe contains no artificial colors, flavors, or preservatives, making it an excellent alternative to some of the more questionable mass-produced diets out there. Fresh venison and lamb meal provide your pup with the animal protein it needs to thrive while nutritious, high-fiber lentils keep his digestive system in tip-top shape.
Small kibble perfectly sized to your dog's mouth
Contains species-specific K9 Strain Proprietary Probiotic to help support healthy digestion
Made in the USA
3. Nulo Free Style For Small Dogs
Top ingredients: Deboned salmon, turkey meal, menhaden fish meal, salmon meal, red lentils
This holistic, all-natural formula designed for the higher energy levels and metabolisms of small dogs derives the bulk of its protein from fresh salmon along with turkey and menhaden fish meals. Its extra-small kibble is coated with healthy fats to appeal to your dog's sensitive nose and make every meal one he's sure to finish!
100% grain-free
Brimming with omegas that help keep coats shiny and soft
Unique flavor profile
4. Merrick Classic Small Breed Dog Food
Top ingredients: Deboned chicken, chicken meal, brown rice, barley, turkey meal
Sick of scraping leftovers out of your pup's bowl at mealtime? He'll lick up every last crumb of this classic Merrick's formula!
This cost-effective diet gets the lion's share of its protein from fresh chicken in addition to chicken meal. Nutrient-rich grains like quinoa and rice feature heavily in this formula, while omega fatty acids promote healthy skin and a shiny coat. Added glucosamine and chondroitin keep your dog's hips and joints functioning as they should.
Made with real deboned chicken
Smaller kibble pieces make for easy chewing
Cost-effective
5. Wellness CORE Grain-Free Small Breed Turkey & Chicken Recipe Dry Dog Food
Top ingredients: Deboned Turkey, Turkey Meal (source of glucosamine), Chicken Meal (source of Chondroitin Sulfate), Peas, Dried Ground Potatoes
Set your dog's tail a-wagging Wellness's CORE grain-free formula!
Show your pup a good time with this protein-rich, holistically-formulated diet. Free of byproducts, fillers, grain, corn, soy, wheat-gluten or artificial preservatives, Wellness ensures your dog gets everything they need and nothing they don't. Fresh turkey combined with deboned chicken is the backbone of this formula, while salmon oil and vitamin E and A support puppy's immune system and safeguard him against disease.
Promote healthy skin and joints
Easy to digest
Made in the USA
6. Diamond Naturals Skin And Coat Formula
Top ingredients: Salmon, Fish Meal, Potatoes, Lentils, Peas
Whether you're worried about preservatives and allergens or just looking to broaden your pup's dietary horizons — Diamond Natural's grain-free kibble will delight your dog with its rich meaty flavor and your vet with its balanced nutrient profile! Wild-caught salmon and fish meal pack a protein-rich punch while fruits and veggies like blueberries and papaya provide plenty of fiber and minerals. Proprietary probiotics make it highly digestible and ensure even the most sensitive-stomached pups can chow down without fear!
Promotes gut health with proprietary, species-specific probiotics that survive and thrive in the GI tract
Made in the USA
Hypoallergenic ingredients
7. Blue Buffalo Life Protection Small Breed Adult
Top ingredients: Deboned chicken, chicken meal, brown rice, oatmeal, barley
Go gourmet with this superbly formulated, nutrient-rich blend of essential-high quality proteins and fibrous, flavorful fruits and vegetables.
Fresh, grain-fed chicken and chicken meal account for most of the protein in this formula, while brown rice and barley supply the fiber and other valuable nutrients your pup needs for a long, exhausting day spent chasing tails and chewing shoes!
Vitamins, chelated minerals, and antioxidants contribute to boosting your pup's immune system health.
No corn, wheat, soy, or chicken (or poultry) byproduct meals
Calcium, phosphorus, and essential vitamins promote strong bones and teeth.
8. Instinct Original Small Dog
Top ingredients: Chicken, Chicken Meal, Chickpeas, Tapioca, Chicken Fat
Whole chicken is the first ingredient in this recipe by Instinct that also includes iron, fiber-rich chickpeas and hypoallergenic tapioca. Also present inside this formula is coconut oil for healthy skin and a glistening coat.
Cage-free chicken is the starting point of this formula.
Provides an optimal balance of protein, fat, and calories for healthy body weight
Omegas and antioxidants promote gut and immune health.
9. Zignature Lamb Limited Ingredient Formula
Top ingredients: Lamb, Lamb Broth, Lamb Liver, Peas, Chickpeas
Your dog will lap up every last bit of this wet canned food! Lamb is the first ingredient in this thoughtfully balanced formula, which also features peas and iron-rich lamb liver, which aids healing and makes this diet particularly well-suited to pups recovering from an injury. Zignature's high moisture content ensures your dog remains well-hydrated throughout the day.
Free of the most common potential canine allergens: corn, wheat, soy, dairy, and chicken
Peas and chickpeas are excellent sources of antioxidants and carbohydrates
Limited ingredient formula that's ideal for picky pups
10. Halo Chicken And Salmon Grain Free Recipe
Top ingredients: Chicken, Chicken Broth, Chicken Liver, Salmon, Carrots
Your pup deserves the very best — and this tasty recipe makes it all that much easier to give it to him! This grain-free formulation featuring cage-free chicken and wild-caught salmon is brimming with good stuff, like fatty acids, antioxidants, and protein to help keep your Shih Poo looking and feeling his very best!
High on the list of ingredients present in this formula are carrots, rich in beta-carotene, minerals, and dietary fiber
A smooth, palatable texture will please even the pickiest pups
Whole meat only, no meat meal or byproducts
11. Nutro Ultra Small Breed Adult Dry Dog Food
Top Ingredients: Chicken, Chicken Meal, Whole Brown Rice, Brewers Rice, Rice Bran,
Give your pup a bowlful of the good stuff with Nutro's optimally balanced, high-quality diet! This recipe is formulated with small dogs in mind. It contains farm-raised chicken, pasture-fed lamb, and salmon as the main proteins. This balanced recipe also has plenty of antioxidant-rich fruits and vegetables, whole grains, and fatty oils — because when it comes to your pup, there are no compromises.
No artificial colors, flavors, or preservatives
Manufactured in facilities owned by Nutro to ensure absolute quality and freshness
Packed with antioxidants that help maintain a strong immune system.
12. Earthborn Holistic Coastal Catch
Top five ingredients: Herring Meal, Peas, Dried Eggs, Canola Oil (preserved with Mixed Tocopherols), Tapioca
Your four-legged friend will thank you for this delicious, high-protein recipe, made with a delightful blend of herring, salmon, and whitefish meal alongside fresh, antioxidant-rich fruits and vegetables selected especially with your little dog in mind! Whether he's sleeping the day away or chasing butterflies in the sun — Earthborn will ensure he remains happy, healthy, and well-nourished throughout it all!
L-Carnitine helps burn fat and maintain lean muscle mass to support a healthy, active lifestyle
Rich in Omega Fatty Acids
Gluten and grain free
13. American Journey Stews Beef & Vegetables Recipe in Gravy
Top ingredients: Beef, Beef Broth, Chicken Broth, Chicken, Chicken Liver
From the experts at American Journey comes this delicious protein-rich formula that nourishes your dog from the inside out with lean beef protein. It contains essential amino acids, and plenty of omega fatty acids served in a beef broth that'll have your pup coming back for seconds.
Balanced small-dog nutrition
Omega-3 Fatty Acids for healthy skin and a lustrous coat
Made in the USA without artificial colors, preservatives, flavors, or meat meal
14. Nature's Recipe Salmon, Sweet Potato And Pumpkin
Top ingredients: Salmon, Garbanzo Beans, Peas, Menhaden Fish Meal, Pea Starch,
Nature's Recipe Grain-free Salmon Sweet Potato and Pumpkin diet helps promote healthy digestion with easily digestible proteins for sensitive stomachs! Nurture your pup with antioxidant and probiotic-rich fruits and vegetables that support a healthy immune system — there's nutrition in every bite!
Made with no wheat or soy and no artificial colors or flavors
Grain-free sweet potato and pumpkin provide an energy boost for active dogs
Real salmon is the very first ingredient
Bonus. Avo Derm Chicken Meal And Brown Rice Formula
Top ingredients: Chicken Meal, Ground Brown Rice, Ground White Rice, Oatmeal, Chicken Fat (Preserved with Mixed Tocopherols), Rice Bran
Made with fresh, whole-food ingredients suited to your little dog's nutritional needs, this thoughtfully formulated diet is affordable, balanced, and nutritious! Free of fillers and jam-packed with natural, high-quality proteins, vitamins, minerals, and antioxidants, this is a pet-parent pantry staple if there ever was one.
Your pup will fall in love at first bite with this yum formula!
Premium proteins are the first ingredients in this recipe.
Corn-free, wheat-free, soy-free, pea free, potato free
Related:
FAQs
Okay, now that we've set you up with some options, you've probably got a few questions. Let's go over a couple of basic pointers:
How much dog food do I need to feed my Shih Poo?
First thing's first: weigh your dog and determine an ideal weight goal. An adult Shih Poo should weigh between 13-20 pounds.
That aside, no two Shih Poos are exactly alike in their dietary requirements, and every brand of dog food is different! The feeding guide printed on your bag of dog food is a good place to start, as is your veterinarian.
How can I transition my Shih Poo to a new food?
Slowly and with care. If you rush the transitioning process, you're putting your pup at risk of digestive problems. Begin by mixing about 20% of the new diet into 80% of the old. Then, slowly increase that amount to a full 100% over 8-9 days.
What food should I be feeding my Shih Poo puppy?
Puppies require more calories and nutrients in their diets than do adults. Diets made for puppies or "growth and breeding" diets are usually best for your puppy. Consult with your veterinarian for the best recommendations.
Should I be feeding my Shih Poo smaller kibble?
Feeding your Shih Poo smaller kibble may not be strictly necessary unless he's a little older or you've previously noticed him having trouble with standard-sized kibble bits. As it stands, most dogs prefer larger kibble anyway!
How will I know when to switch my Shih Poo to senior dog food?
Though small breeds age far slower than larger ones, your Shih Poo might be older than you think.
The American Veterinary Medical Association states that "small dogs are generally considered senior at seven years of age," however, if your Shih Poo is over seven and at a healthy weight, switching to a senior diet may not be strictly necessary. If you decide not to change your dog's food, be sure his diet contains above-average protein levels and only moderate calories.
What are the eight riskiest ingredients to avoid when selecting your Shih Poo's food?
The eight most controversial ingredients found in dog food and the health risks associated with them are as follows:
Propylene glycol: moisturizer: Heinz body anemia
Generic "meat": unknown source: food allergies
BHA: preservative: cancer
BHT: preservative: cancer
TBHQ: preservative: cancer
Ethoxyquin: preservative: liver pigmentation
Menadione: synthetic vitamin: Hemolytic anemia
Artificial dyes: colorant: cancer
Do I feed my Shih Poo wet or dry food?
Well, what does your Shih Poo prefer? If your pup's a dry-food fanatic, you're going to have a hard time getting him to chow down on some beef jelly. And if he's got a preference for gravy, he's not going to want to eat kibble.
It's important to note that canned food is usually the better option: it's more palatable, contains more meat, has fewer carbohydrates and because it's airtight, contains no synthetic preservatives.
Is it okay to change my Shih Poo's diet routinely?
Yes, and in fact, you should. Unfortunately, there doesn't yet exist a perfect dog food; every product falls short in some aspect! When you feed the same diet day in and day out, you're magnifying the problem. Varying your pup's diet proffers nutritional variety and makes mealtimes more exciting!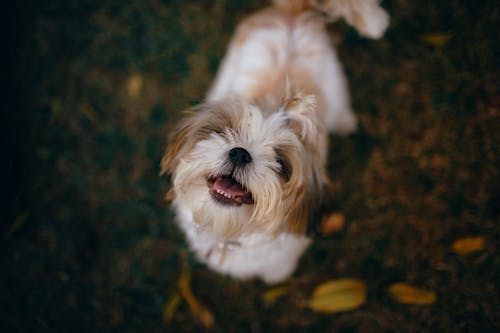 Can my Shih Poo have my table scraps?
Fresh foods like meat, vegetables, and fruits are generally okay when fed in moderation. Take care not to feed your dog anything fried or processed, and be sure you're avoiding toxic ingredients like garlic and onion.
My Shih Poo's got a tendency to overeat! What do I do?
Unfortunately, Shih Poos are often very prone to over-eating, so you must monitor your pup's caloric intake. Don't free-feed. Instead, split their meals and be good about keeping to a mealtime schedule.
What's the better source of omega-3 essential acids: fish or plant oil?
Your Shih Poo's soft, silky coat is your pride and joy — so maintain it! Fish oil is far superior to flax and canola because it contains the EPA and DHA varieties of omega-3 fatty acids, both of which are easier for your dog to absorb and process than the ALA inside plant-based oils.
My Shih Poo's got dental issues. I hear dry food is better for his teeth?
Your Shih Poo's small mouth puts him at greater risk of periodontal disease, in addition to overcrowded, misaligned, or missing teeth. However, dry dog food doesn't necessarily produce healthier teeth or gums. Crunchy kibble can remove some surface plaque, but it doesn't do much for plaque/tartar buildup in the extremely important zone near your dog's gumline.
What are the most common causes of dog food allergies?
Some common potential allergens include:
Beef
Dairy
Chicken
Lamb
Fish
Corn
Wheat
Soy
Yeast
I think my Shih Poo might have allergies. What do I do?
Allergies can have lasting and serious consequences for your pet. You must consult a qualified veterinarian to understand your pet's allergy and how best to control it. Do not attempt to diagnose your dog yourself.
What food should I feed my Shih Poo if I think his diet is causing his allergies?
Thankfully, there are diets on the market tailored to dogs with allergies that can go a long way towards helping you manage these problems.
You might also want to consider making the switch to grain-free dog food.
Can I home cook my Shih Poo's dog food?
DIY dog food is all the rage, but we'd advise against going this route. Dogs need about 37 basic nutrients in their diet, and most recipes for homemade food fall woefully short of your dog's nutritional requirements, which isn't to say you can't occasionally cook for your pup, but it's best not to make a habit of it.
My Shih Poo is diabetic! What can I do to help manage this condition?
Keep your diabetic dog on low-carb and no kibble diets because kibble has an extremely high glycemic index (it converts more readily to sugar). A low-carb, limited-ingredient canned food — like Zignature's Lamb — would be ideal.
How do I know if my Shih Poo's got a sensitive stomach?
Keep a lookout for one or more of the following:
Loss of appetite
Vomiting
Diarrhea
Gas or bloating
Decrease in activity
Gurgling noises
Signs of abdominal pain
My Shih Poo's got a sensitive stomach. What do I do?
Any of the following may help soothe your dog's digestive issues:
Limited ingredient dog food
Hypoallergenic dog food
Prescription GI dog food
In addition to the above, you'll also want to pay special attention to your dog's treats and eating patterns. An occasional bit of plain, cooked white or brown rice can help settle an upset stomach or diarrhea.
Shih Poo Food Buyer's Guide
What differentiates the mountains of mass-produced, poorly-formulated rubbish masquerading as dog food from the actual high-quality diets worth feeding your pets?
Their ingredients list, of course.
One of the easiest things you can do is take a look at the ingredients list.
The first three are the most important because they're present in the highest quantities and comprise the bulk of the recipe. Vegetable-centric formulas are usually made of corn and rice, while meat-based formulas feature chicken, fish, or lamb. While no two dogs are the same, it's important to note that your dog is at his best on a meat-based, protein-rich diet.
But not all meat is created equal.
Take a good, long look at the sort of meat inside. Opt for brands that state which meats they contain, like chicken, fish, or lamb, and avoid filler-heavy recipes that rely on bone-meal or meat-byproducts for their protein — this ingredient is entirely anonymous. There's no way of knowing what particular animal or combination of animals it comes from, making identifying specific food allergens impossible. So when you spot poultry meal on a label, that could be any bird.
The label will also spotlight what you want to street clear of.
We advise against foods that include:
Dyes: your pooch couldn't care less what color its food is
Sugar and excessive salt, which are commonly used as preservatives but can cause a range of health problems when consumed in excess
Other solvents and preservatives like propylene glycol, BHA, BHT, and ethoxyquin
Natural preservatives like vitamin C, vitamin E, and the oils of clove, rosemary, and other spices are a safer, more holistic alternative!
Finding The Right Product For Your Shih Poo's Stage Of Life
Are you the proud new owner of a Shih Poo puppy? Perhaps your dog is an adult? Or maybe he's a senior dog? How can you determine which diet is right for him?
Puppies, seniors, and adults each have completely different nutritional needs, which is why it's hugely important to pay attention to the label on your dog's food.
Your good-est boy deserves the very best, so choose a diet that'll meet his dietary needs!
The Association of American Feed Control Officials requires that all manufacturers print what's called a "Nutritional Adequacy Statement" somewhere on your dog food's label that states which stage of a pup's life a product is for.
The AAFCO has identified two specific dog food nutrient profiles:
Adult maintenance
Growth and reproduction
Foods that fall under adult maintenance are for adult dogs with average activity levels that don't reproduce! It's not for growing animals, those expected to breed or ones that work.
Products marketed as suitable for "all life stages" must meet the stricter criteria of the "growth and reproduction" designation, which identifies foods designed for puppies/kittens and pregnant or lactating females.
Products that don't meet the adult maintenance or growth and reproduction standards will state: "This product is intended for intermittent or supplemental feeding." They are not intended for long-term use and cannot meet your Shih Poo's dietary needs.
If you can't find the Nutritional Adequacy Statement, or if it doesn't clearly, directly state that the product is complete, balanced, and appropriate for your pup's life stage, move on.
The Bottom Line
Give some thought to the following the next time you're on the hunt for solid, high-quality dog food:
Choose a diet to you can be certain contains no suspicious meat byproducts.
Stay away from food prepared generic animal protein instead of quality meat.
Look for foods that feature premium meat near the very top of the ingredients list.
Diets that violate either of these three simple guidelines aren't worth your money, and you and your dog are far better off with something else.
And that concludes our list of the best dog foods for your Shih Poo! We hope we've made navigating the vast, confusing world of dog food a little easier.